LeBron James took a day off from the Lakers to attend his son's McDonald's All-America Game. In order to capture Bronny James in the coveted All-Star game in Houston, Texas. LBJ spent a night away from his Los Angeles colleagues two days after losing to the Bulls. And one day before the two teams square off in a rematch in Chicago. Judging by the way he appeared to be, he couldn't have been happy to do it!
LeBron James claims that his son Bronny James who is 18 years old. Definitely is a superior basketball player compared to some players in the NBA at the moment. Bronny James is a high school standout, and some draught experts believe that when he becomes available for the draught in 2024. He could be a top-10 selection.
Proud Dad LeBron James
In fact, after almost every 3-pointer Bronny made. LeBron would stand up and let everyone know it was his son who had made the accurate shot. Bronny gave his Dad plenty to celebrate about, too. He made FIVE 3-pointers and finished with a total of 15 points in the game.
LeBron's son competed in the coveted skills challenge two decades after The King won it all back in 2003. The 18-year-old got this close to repeating his father's accomplishment. Bronny is a 6-foot-3 shooting guard. He started the tournament with a self-lob, reverse layup that earned him a 65/70. His second throwdown, a self-lob, one-handed windmill, won him a 57/70 and a spot in the playoffs.
Recently, LeBron was able to observe Bronny's abilities firsthand while watching sports. For his son Bronny's big night, he had courtside tickets. According to the sources, he was delighted to watch his son participate in McDonald's All-America Game. Before celebrating each large bucket that Bronny produced, Bron, who participated in the event himself in 2003, snapped a photo with his entire family in their floor seats.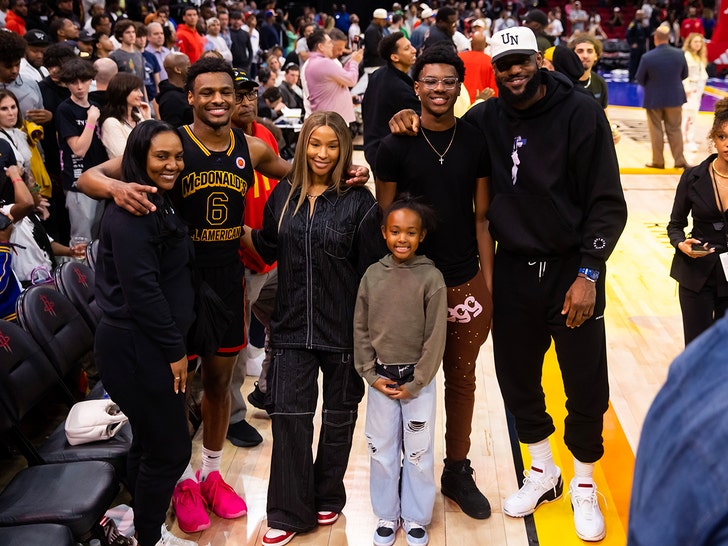 Although the young James team ultimately lost. It is clear that LeBron didn't care because he was smiling after the game with his son and the rest of his family. Bronny, who also competed in the McDonald's dunk contest on Monday, is unsure of his next steps. But hasn't decided which college he'll attend in 2023–2024. It seems LeBron is prepared to support him in each and every step of the way.