Priyanka Chopra Russia vs Ukraine: Actress Priyanka Chopra, who has introduced her performance from Bollywood to Hollywood, is not interested in any separate identity. These days Priyanka Chopra is living life with her husband and Hollywood actor Nick Jonas. Recently Priyanka and Nick have also become parents. Priyanka Chopra, who keeps her opinion on every matter, has shared an emotional post on social media for young children between Russia and Ukraine war.
Priyanka Chopra is very active on social media. Despite her busy schedule, Priyanka often updates her thoughts and photo-videos through social media. Meanwhile, Priyanka Chopra has appeared very worried for the children trapped during the 100-day continuous Russia-Ukraine war.
Actually Priyanka Chopra has shared an emotional post in the story on her official Instagram handle. In which PC has written that 100 days of death, 100 days of pain, 100 days of fear, 100 days of war. In this way, Priyanka Chopra, keeping her point, has told that during this World War II child protection crisis is flourishing. Along with this, Priyanka, while giving her opinion in view of UNICEF, has written that amidst the family struggle and the fear of Kovid 19, keep making possible efforts to keep the children safe. This is what UNICEF is doing to support children.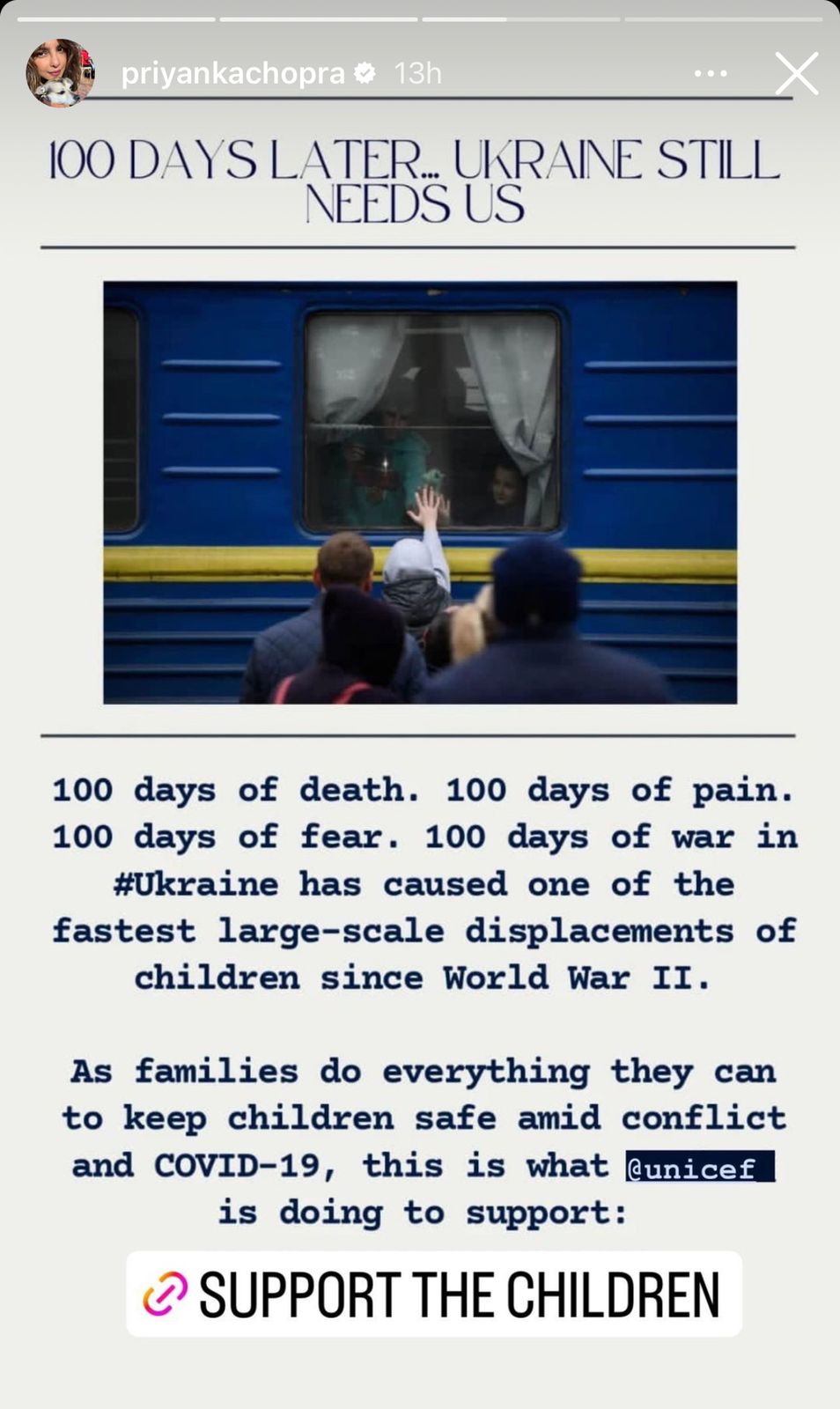 Priyanka has already expressed her opinion on Russia-Ukraine war
This is not the first time that Priyanka Chopra has expressed her opinion on the Russia-Ukraine war. Earlier on February 25, on the second day of this war, Priyanka Chopra posted a video on Instagram. In which people migrating from Ukraine are visible. In the caption of this video, Priyanka also wrote a long and wide note. Under which Priyanka is clearly describing the terrible situation arising out of this war.
Payal-Sangram On Wedding: Sangram wanted to surprise the family by marrying Payal in the temple, but then something happened that…
Kartik Aaryan: Karthik Aryan, who was hit by Corona, said – everything was going so positive, from Kovid…