Isha Gupta (Esha Gupta Glamorous Photos) often shares her bold and glamorous pictures on social media. She continues to rule the hearts of fans through her beauty. Isha has shared a picture of herself for a few hours. This picture is going viral very fast. In this picture, she is seen wearing a black leather jacket and matching bralette. His cleavage is visible in this picture. This picture has got more than 1 lakh likes in a short time.
Her fans are praising her beauty by commenting on this post containing the picture of Esha Gupta. People are calling her hot and bold. Isha had earlier shared a post with many topless pictures on Instagram and her fans became crazy about her. In one picture, she was lying on her bed with her back to the camera and flaunting her beautiful curves.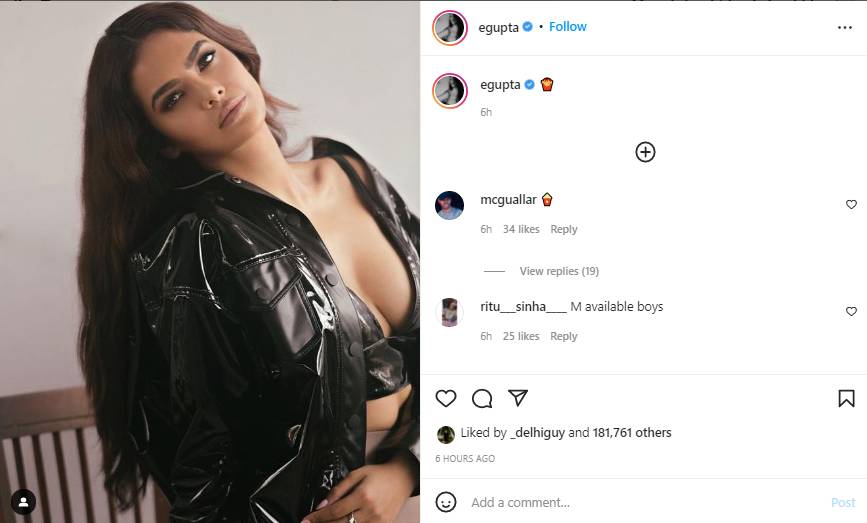 (Photo Credits: Instagram @egupta)
In these pictures, Esha Gupta's hair was often open and sunlight was falling on her face, which was making this whole picture very beautiful. Sharing these pictures, he tagged Manuel Campos Guallar. For those who do not know, let them know that Manuel Campos is a businessman and Isha's partner.
Esha Gupta shared photos from vacation
Earlier, Esha Gupta Vacation Photos posted pictures of her vacation, in which she is seen standing topless on the balcony wearing only blue jeans. The pictures had gone viral on social media. Isha was also trolled for sharing these sunbathing pictures. Isha recently got infected with the corona virus. He shared a glimpse of his quarantine through an Instagram post.
Esha Gupta shared a picture from Quarantine
Esha Gupta was seen lying here and there on her sofa as her partner clicked her pictures. Posing on the sofa, Isha was seen in a white cotton shirt, which was buttoned open. This picture during the quarantine was also quite glamorous.