Dharmendra is an actor of Bollywood, who was one of the most handsome actors of his era. Even today the fan following of Dharmendra sahib is no less. He is very active on social media and talks a lot with his fans on social media. Through his old pictures and videos, he keeps on treating the fans. He keeps inspiring people through his posts. Dharmendra once crossed the purse from someone's pocket in the train (Dharmendra was pocketing in train). We are not saying this, Dharmendra himself has shared a glimpse of it with the fans. Along with this, advice has been given to the people, which is giving deep learning to the people.
Dharmendra shared the picture on social media
Dharmendra has shared his old picture. He has uploaded such a picture of himself on his official Insta handle, which people are surprised to see. In the picture, Bollywood's Heiman is seen crossing the purse from the pocket of a person on the train. In the picture, he is eyeing the camera holding the railing of the local train. This photo of Dharmendra may be a part of the film, but if a pocket clerk reads the caption he has written with this picture, then he will definitely think twice before doing such a wrong thing.
deep words in the caption
In the caption, he wrote, 'Never do this, because this man may be going to take medicines of his sick mother'. With the picture of stealing, the very deep message that Dharmendra has given to the fans is now going viral.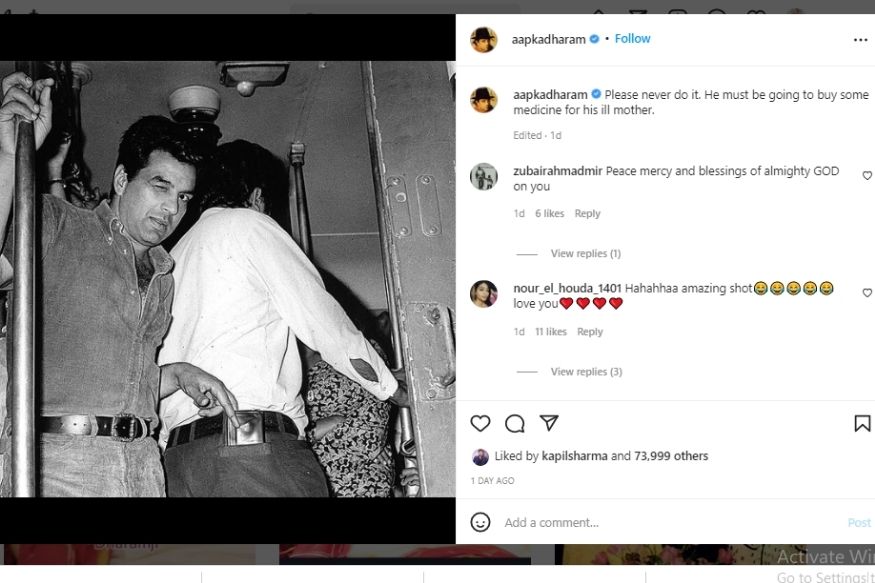 Dharmendra's post.
Fans are reacting on social media
Seeing this picture of Dharmendra on social media, different reactions of fans are being seen. One fan has written, 'If you are such a handsome thief, then no one will report to the police, while another fan has written, 'You have said a very deep thing, sir'.